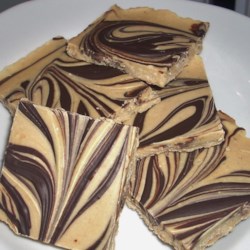 One of me and my family's personal favorites: Tiger Butter. It's delicious for an anytime snack!
1 pound vanilla almond bark
1 cup semi-sweet chocolate morsels
1/2 cup peanut butter
1 cup dry-roasted peanuts (optional)
Melt the almond bark in the microwave for 1 minute. Take out, stir. Then, put it in the microwave for 30 more seconds. Stir again. Add the peanut butter and peanuts to the mixture.
Melt chocolate morsels in the microwave for 45 seconds - 1 minute. Stir.
Grease a 9x13 jellyroll pan (cookie pan). Spread the peanut butter mixture onto the greased pan.
Drizzle the melted chocolate in stripes over the vanilla bark-peanut butter mixture. Use a butter knife to make a marbled pattern.
Allow to chill in refrigerator for about 2 hours, until set, or overnight.
Enjoy!! Please comment how it turned out for you and how you liked it! Thanks for reading :)
**Not my recipe**